Please support this wonderful new South Elgin Branch by adding your name (or honoring a loved one) to valuable equipment that will
serve thousands of South Elgin people now and in the future. Or you can simply donate to help the library fulfill needs.
Donations exceeding $1,000 will be part of our donor recognition at the Branch.
Donations of any size will make a difference.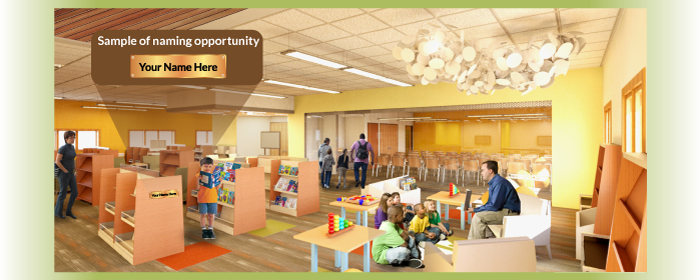 Plaques
| | | | | |
| --- | --- | --- | --- | --- |
| # | Item | Quantity Available | Price | |
| 1 | Leaf on Donor Tree | 100 Available | $100 | |
| 2 | Patio Bench | 3 Available | $500 | |
| 3 | Book Shelves with Books | 10 Available | $1,000 | |
| 4 | Hydration Station | 1 Available | $1,000 | |
| 5 | Family Cafe | 1 Available | $5,000 | |
| 6 | Wellness Room | 1 Available | $8,000 | |
| 7 | Study Pods | 2 Available | $8,000 | |
| 8 | Study Rooms | 2 Available | $10,000 | |
| 9 | Outdoor Gatherings | 1 Available | $10,000 | |
| 10 | Children's Play House | 1 Available | $10,000 | |
| 11 | Small Conference Room | 1 Available | $12,000 | |
| 12 | Baby Garden | 1 Available | $12,000 | |
| 13 | Children's Activity Room | 1 Available | $15,000 | |
Room Name
| | | | | |
| --- | --- | --- | --- | --- |
| # | Item | Quantity Available | Price | |
| 14 | Wellness Room | 1 Available | $15,000 | |
| 15 | Baby Garden | 1 Available | $20,000 | |
| 16 | Children's Activity Room | 1 Available | $25,000 | |